The Home of Future Leaders with Islamic Values
An Islamic learning environment with Cambridge and Tahfizh curriculum for promoting the development of knowledge, confidence, creativity, skills and understanding to help our children develop into happy, healthy, caring and successful local, national and global citizens.
Cinematic is one of Mumtaza Junior High School's Extracurricular have. They make projects to make videos. This video showing us students activities. Play the video for knowing it.
Ciputat — Ketua Yayasan Nawa Dinamika Sejahtera, Prof. Dr. H. Mundzier Suparta, MA, melantik tiga
Read More »
Salah satu program SMP Mumtaza Islamic School, Final Project, yang diadakan untuk siswa/i kelas IX
Read More »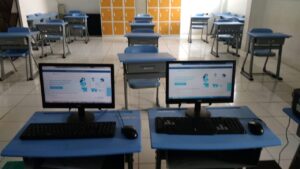 SMP Mumtaza Islamic School bekerja sama dengan Puskesmas Pondok Cabe Ilir dan Polres Pamulang dengan SMP Muhammadiyah 22 Pamulang mengadakan Vaksinasi yang berlokasi di lantai tiga SMP Mumtaza pada hari Sabtu, 8 Agustus 2021.
Read More »
Nusantara Cerdas Comp (Medali Emas Kompetisi Akademis Bidang IPS & Medali Perak Kompetisi Akademis Bidang Sejarah) April 2022
Indonesian Apllied Science Competition (IASC) - SILVER MEDAL Banjarnegara, Central Java 2021
National English Competition 2021 - BRONZE MEDAL (Score B+)
Kompetisi B.Inggris Khatulistiwa Cup #2 oleh OlimpiadeKita.Com MEDALI PERAK (2022)
Olimpiade Sains Tingkat Nasional ORC - VII Maret 2022 Bidang Matematika Medali Perak
Olimpiade Sains dan Statistika Nasional (OSSN) Bidang B.Inggris Medali Emas (A+) - April 2022
LIGA OLIMPIADE Agustus 2022 (Garuda English Competition & Indonesia Computer Olympiad Medali Perak)
POSI (Medali Perak Kompetisi HARDIKNAS Se-Indonesia Bidang IPA & IPS) April 2022
Becoming #MumtazGeneration